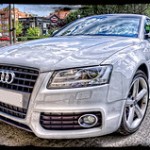 Are you in need of Audi diagnostics in St Helens? One of the leading manufacturers of German cars is Audi. Audi cars are known for their high quality performance as these cars are built not just for speed, but also for their endurance. In order for these cars to function properly however, it is vital that they undergo routine checks and maintenance. When it comes to these aspects, you can't just take your expensive car to just any service providers, you need to go to a professional company that can provide you with specialised Audi diagnostics. Audi diagnostics are performed by a mechanic who will use a diagnostic tool to ascertain if there are any recorded problems. The mechanic will do this using diagnostic software which accesses the car's reporting and computer system where any problems are monitored and any faults are logged. Your Audi has a computer processor, microchip and sensor which can be linked to a car diagnostic computer scanner.
In St Helens, Audi diagnostics are available at North West Bloor Motors. More than just a diagnostic center, the company specialises in German automobiles. With their expert Audi specialists, North West Bloor Motors will ensure your Audi is performing at the level it should, as well as perform certified Audi diagnostics. They will ensure that your automobile gets the service that it needs to comply with the car's manufacturer standards.
When you need Audi diagnostics in St Helens, look no further than North West Bloor Motors. Ensuring that your Audi is road safe is a high priority, not only for your safety, but for fellow road users as well. A diagnostic check is an important tool as it will help the mechanic to easily identify any problems in your Audi and repair them as quickly and efficiently as possible. It is recommended that an Audi diagnostic check be done at least once a year. If you want to find out more about an Audi diagnostic check for your car, contact North West Bloor Motors as soon as possible.