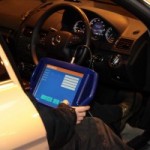 For expert BMW Diagnostics in Horwich, choose North West Bloor Motor Works. We specialise in BMW and German car MOT testing. Our team offers full garage services and cost effective solutions at prices that can't be matched by dealers. We established ourselves as an independent garage in 1996 when we first opened our doors. Our technicians are all BMW trained and experienced. As our acceptance grew, we expanded and now have 9 service bays staffed to get your car in and out quickly. With MOT testing, tyre service and diagnostics, we are truly your one stop for professional care for your BMW and personable customer service.
We opened our garage about the same time the computerised car engines became common in most cars. Such technological advancements have been beneficial and now in Horwich, BMW diagnostics are a common service we offer. You may be one who only thinks of diagnostics when the engine light goes on. In truth, a diagnostic test once a year can pick up any number of small issues that can be resolved to avoid bigger problems. These minor faults may not send an engine light warning; at least not in the early stages. We use specialised BMW diagnostic tools and software to accurately diagnose a problem and do it quickly. The use of diagnostics does not just apply to your car's engine but other operations as well that have microchips, sensors and processors.
BMW diagnostics in Horwich can find problems with most major components, including transmission, brakes, exhaust, fuel injector and more. The diagnostic tool uses codes to identify the area that is outside the normal range. We use our skills, experience and brains to identify and then make the repairs. For superior experience and customer service, contact North West Bloor Motors at the first sign of trouble. If you are in the market for a used BMW, bring your first choice to us before you hand over the cash. We will run diagnostic testing on it to make sure there are no hidden faults that even the seller doesn't know about. As a buyer, you can actually know what you are getting instead of just hoping for the best.