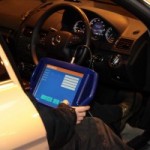 When it is time to have a BMW remapping in Farnworth, take your car to a BMW specialist. Remapping is a way to increase your car's performance, while not ruining any of the special features that BMW provides. If you go to just a regular mechanic, they may not understand the special features, and that is why you bought a BMW to begin with! Remapping is a turbo diesel tuning that will give your car the most power and torque possible, while maintaining great fuel efficiency. You want the smooth ride of a BMW so a remapping can give you just that. If your mechanic is a BMW specialist, they should be able to do the job in no time.
In Farnworth, BMW remapping is professionally done by North West Bloor Motors. They are German car specialists with over 20 years' experience in the industry. You cannot find a more reliable and professional service company in the region. They provide the highest quality workmanship, servicing and after care. Their customer service is unbeatable. They have all the up-to-date diagnostic and repair equipment to keep your BMW running at full capacity. Call them and schedule an appointment to see how they can improve on your vehicles performance.
BMW remapping in Farnworth, at North West Bloor Motors will keep you on the road and driving high powered with safety and fuel efficiency. The team is honest, knowledgeable and accurate with their work. You will be pleased with your results. They have nine repair bays with ramps. Each one has a dealer trained technician, who will service your car quickly and thoroughly. They supply genuine manufacturer's parts and stamp your service book when finished. For BMW remapping, contact North West Bloor Motors.