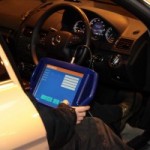 We are specialists in Audi diagnostics in Westhoughton and have the experience and expertise to make sure your vehicle faults are quickly identified and rectified. Modern cars are fitted with the most amazing technology which allows our diagnostic machine to see what has been happening to the systems in your car. All the information is stored and is available for our technicians to read. We have been one of the leading independent German car specialists in our area for almost 20 years. In this time we have become dedicated to service and repair of all makes and models of German manufactured vehicles.
We are a well equipped and modern garage with traditional values when it comes to customer care. In Westhoughton, Audi diagnostics help us to save you money by cutting down on the time needed to find the fault. Once we have identified the problem we know exactly the right part to change to fix it. We have access to almost all the technical data of most of the German manufactured vehicles.  We are known in the area as a garage that provides superior workmanship and dedication to all the vehicles we look after. We specialise in German engineered vehicles as they match our precise methodology. Beautifully engineered machines should be cared for by people that appreciate them.
We have all the equipment necessary for Audi Diagnostics in Westhoughton. Our machines are of the latest manufacture and are ideal for all German cars. Contact North West Bloor Motors as soon as possible to book your vehicle in for a service. We cater for services, repairs and MOT's for many different types of cars. Over the years we have gained specialist knowledge and we feel our bespoke service is second to none. Our prices are amazingly low compared with the main dealers and we can offer a personal touch as we are an independent garage. We can look after your vehicle no matter the age or your budget constraints. Bring us your car to look after.