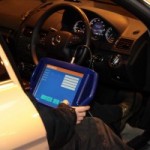 Don't panic when you notice your BMW engine management lights in Blackburn come on. At North West Bloor Motors, we can set things right for you. We are proud to be the region's leading independent BMW specialists offering affordable, efficient and top-quality services. We provide state of the art services for German cars of any make and model. With more than two decades' experience in this business, we have established ourselves as the North West region's most preferred destination for owners of German autos. We provide excellent services, cost effective solutions and proactive care of your fine machine.
Modern vehicles are highly sophisticated and software intensive. Engine lights are one of the features that helps the vehicle to communicate with the driver. In Blackburn, BMW engine management lights provide an early warning of a potential problem. This is one of the number of lights set in the dashboard instrument cluster and routinely comes on when you switch on the ignition. At this time, it goes off immediately, but when there's a problem, it stays on or flashes when you're driving. This is to give the driver an alert that there is something not quite right. Though it may not be an emergency, we recommend that you bring the vehicle in to our garage as quickly as possible. Ignoring the warning could mean breakdowns, inconvenience and more expenses later. At our garage, technicians can connect their laptops to the on board diagnostics port in your vehicle. This helps them decode the problem. It could range from a simple malfunction to a potentially serious problem.
There are different colours of BMW engine management lights in Blackburn. Yellow, orange, amber flashing or constant lights, and red flashing lights are some of the common ones. It's important to call the garage as soon as it's convenient, unless you see the red flashing light in which case you should stop immediately without driving further. Contact North West Bloor Motors if you are concerned about your BMW engine management lights. Our team consists of highly-trained, experienced professionals whose skills are kept regularly updated. We're ever ready to go the extra mile to ensure your comfort, convenience and safety.