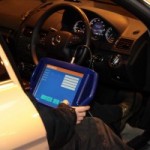 For cutting edge Audi diagnostics in Manchester, bring your Audi to North West Bloor Motors. We are German-engineered car specialists. That means the majority of our focus, continuing education, training and stocked parts is for German engineered cars like Audi. We have a spacious and up to date facility with 9 bays. That's only helpful for getting customers in and out efficiently if each of those bays is staffed; ours are. Have you ever walked into a large commercial facility thinking they're big enough to give you efficient service? Maybe you found out when you got inside there was only one staff member on duty. We're not just wasting space here, we are taking care of our customers' needs in a timely manner.
A business can have a large staff but if they don't know the product, they're a waste of space too. In Manchester, Audi diagnostics, maintenance and repair is mastered by every one of our experienced technicians. They know Audi's so well they can just call on past experience to know why the starter works one day and not the next. Otherwise, to speed up the troubleshooting, we have the finest, most up to date, genuine Audi diagnostics to narrow down why your trouble light is on or why the lights won't come on. In our hearts, we believe Audi is one of the finest cars on the road. We established our garage in 1996 with intent to focus on German-made cars including Audi because to us, they are worth knowing well.
Audi diagnostics in Manchester saves us a lot of time troubleshooting. When we save time,  that saves you money. You can't do better because even though we have a full dealer level diagnostics and all the technical data and diagrams that the dealer has, our prices are lower. We're an independent garage so we can do that. Besides being a full-service garage, we are also an MOT testing facility. We have everything you need to treat your Audi right. Contact us and schedule your Audi in for a diagnostic check-up. While you're here you could get your MOT testing done as well. Just in case, we have a body shop too.