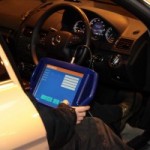 When considering BMW diagnostics in Blackrod, you must work with a reliable service provider. BMW diagnostics ensure that your car is in excellent condition. We identify problems you may have with your car and guide you on how best to address them. You must get a comprehensive diagnostic service for your car. Effective BMW diagnostics help to solve recurring problems that your car may have. Entrusting your car to professionals assures you that your car will serve you effectively. BMW diagnostics enable you to know the services that your car needs. It ensures that you cater to your car's most urgent needs.
We use technologically advanced diagnostic tools to provide you with excellent services. In Blackrod, BMW diagnostics are done professionally. Our experts provide full dealer and level diagnostics and fault finding. We conduct a wide range of evaluations to ensure that every aspect of your car is in the best condition. Our accumulated knowledge and experience make us the best diagnostics professionals in the region. Our services are expansive, and you are assured that your car will be subjected to a complete and comprehensive diagnosis. We offer quality services at reasonable prices. Moreover, we offer a quick turnaround time and a courtesy car to eliminate the inconvenience of getting your car serviced. We provide services for both old and new cars.
We match our services with the vehicle manufacturer recommendations for BMW diagnostics in Blackrod. We stamp your serving book each time we serve you. Our services are fully accredited. You can rest assured that you will be served by qualified, knowledgeable technicians. We provide repair services which include engine rebuild, bodywork, air conditioning, electrical and mechanical. In addition, we fix exhausts, breaks, tyres and clutches. Our services are fast because of our multiple service bays and numerous available technicians. If you need BMW diagnostics services, contact North West Bloor Motors. We are committed to ensuring that we enhance your car's performance by maintaining its standards and capabilities.