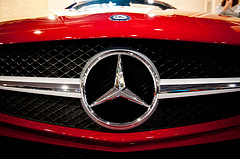 Recently a customer let us know that they really appreciated our Mercedes mechanics. In Burnley they began having trouble with their Mercedes and called us at North West Bloor Motor Works to see what they should do. It seemed that their car was running a bit rough and the temperature gauge was showing the engine running hot. NW Boor has top quality mechanics that specialize in repairing German engineered vehicles so we were able to quickly get a specialist on the phone so they could describe the problem to them.
After speaking to the customer ,our techs decided that the car was not dangerously overheating but they should err on the side of caution and turn the vehicle off and we would call a tow truck to go get them in Burnley. Mercedes mechanics at our top of the line, modernly equipped shop got ready for them and when their ailing Mercedes arrived they were able to quickly diagnose the problem. It seems that their thermostat was not functioning properly. Since we are a full service repair shop, we stock many parts including this particular part and we were able to get the vehicle repaired quickly and get them on their way.
It is great to hear from our satisfied customers. Our reputation hinges not only on taking care of their vehicle, but also on treating the customer right. We treat our new customers with respect and professionalism that makes them become long term customers. So, if you are in need of Mercedes mechanics in Burnley or the surrounding areas give us a call or stop in,.We specialize in German manufactured vehicles but we can service any make or model. Find out more on our website.