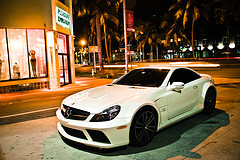 We were contacted with an enquiry from a customer looking for a high quality Mercedes diagnostic specialist in Rochdale. They wanted to know if we could help with fault finding for their beautiful German car and if they should choose us rather than going a little further afield and using a Mercedes dealership. We were able to answer in the affirmative for both of their questions. That's because we provide a full range of garage services for German cars in the North West and fast and effective fault finding is just one of our specialities.
A Rochdale Mercedes diagnostic specialist has a lot to offer over a main dealer diagnostic and repair service. One advantage is locality. Why travel all the way to a Mercedes dealership, when there's expert help available on your doorstep. Another advantage is that as an independent garage, we're free to set our own rates and provide outstanding value for money. Main dealers have set rates, but are customers really paying for the name that's above the forecourt? Yet another benefit of using us, is that we won't make you wait. We can effect repairs immediately after the fault has been diagnosed and get your car back on the road in perfect condition. Main agents may make you wait while they wait for the official parts they need to come back into stock.
Customers looking for a Mercedes diagnostic specialist in Rochdale are rightly proud of their cars. They're prestigious vehicles that turn heads as they drive by and show that their driver is doing well in life. We love high class German cars just as much as you do, which is why we have expertise in cars such as Mercedes, BMW, Audi and Porsche. We have all the latest diagnostic kit and to put it simply, if a main agent can do it then we can as well. That means we can diagnose a wide range of electrical faults, including immobiliser and alarm faults, air bags, ABS and air conditioning, key and central locking problems, engine management systems and much more. Call us today and find out how we can help you keep your car on the road.