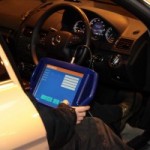 We recently helped a customer who had experienced a Mercedes diagnostics problem in Bolton. While out on a drive they noticed a warning light had become illuminated on their dashboard. Although they didn't know what the problem was they realised that to continue to drive their car could make the problem worse, so they took it to the nearest garage. Unfortunately the garage said they didn't have the facilities or expertise to diagnose the fault and referred the customer back to a Mercedes main agent. They wanted a more cost effective option, which was why they then contacted North West Bloor Motors. We were able to reassure them that if the main agent could do it, so could we, but at a significantly lower price.
Bolton Mercedes diagnostics problems are common to many garages who don't possess the cutting edge diagnostics equipment that we do. Mercedes Benz cars are very beautiful vehicles and are very technologically advanced. This means that they have a large number of electronic components and if one of them fails it can affect the performance of the car as a whole, or bring it to a halt. Most garages don't have the technology or know how to provide accurate fault finding for electronic problems. We, however, invest in the latest diagnostics equipment. This means that we can quickly find the source of faults for Mercedes-Benz, BMW, Audi, Porsche, Mini, Skoda, Seat and VW. We're proud to be German vehicle specialists who can offer everything that a main dealer can.
With our wealth of experience and highly qualified automotive engineers, you need never worry about having a Mercedes diagnostics problem in Bolton. You'll also be able to avoid the inconvenience of having to return to a Mercedes dealership. Main agents charge a premium just for the sign that's on their forecourt. We deliver main agent quality services at independent garage prices. Whether you have a fault with the ABS, airbags, central locking, air conditioning, engine management, or more, we'll find the fault quickly and then repair it. Call us today and find out more about our expert services for German vehicles.