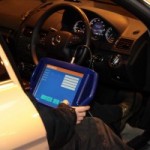 If you are in search of Audi remapping in Manchester, you need an expert to ensure your needs are met. North West Bloor Motors is an independent specialist of German motor vehicles and can do the job while offering you reasonable prices. Your car as your lifeline to the world. It is the place where you spend many hours per day. You want it to perform optimally. You want it to function as you dreamt it would, even before buying it.
If you are hoping to get more or different results from your Audi and you reside in Manchester, Audi remapping is a way of getting to your car's "brain" and adjusting necessary factors to obtain different results. As your requirements of the car are not necessarily the same as the manufacturers', with modern technology you can change settings in your Audi's ECU and feel the difference. Manufacturers set up vehicles for a certain dynamic, but that doesn't mean that your car can't perform differently than it currently does. But then it has to be done right by people who know the extent, but also the limits, of your particular vehicle. You don't want your precious vehicle damaged in any way. Adjustments can benefit fuel consumption and power performance. Or do you need a certain system like Diesel particulate filter turned off? A range of changes are yours to test out. Your car has much more to show off with than you may know.
Audi remapping in Manchester should be completed by experts in the field. Contact North West Bloor Motors to find out how they can assist with Audi remapping. Trust a company that has made a name for itself in doing a wide range of services, just as good as the manufacturers. You can have state of the art service, at a price which is acceptable and with the addition of friendly service done by experts. Use North West Bloor Motors. They won't disappoint and are ready to assist you.