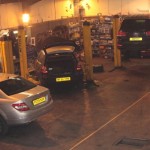 For a BMW MOT in Horwich that ticks all the boxes, remember North West Bloor Motors. It is a legal requirement that any vehicle over three years old must undergo an annual MOT test. With North West Bloor Motors this does not need to be a chore. This independent garage performs a comprehensive MOT test but is also cheap. All the necessary checks are performed and only quality parts are used for any repairs or replacements. They have a fleet of courtesy cars. This means that scheduling your MOT does not need to be an inconvenience. Book your vehicle into the MOT centre and continue on your way with one of their courtesy cars. With this garage, you get exceptional service at an excellent price.
North West Bloor Motors offers a range of services. In Horwich, BMW MOT is just one. They specialise in German vehicles and will expertly service and repair Audi, Mercedes, BMW, Mercedes, Porsche, Seat, Skoda and Mini vehicles. Of course they are qualified and experienced in many other makes and models of vehicles tooThey have the latest equipment and technology for diagnostics and will accurately identify what is at fault with your car. They will undertake all repairs using quality parts, and restore your car to good working order. They will only undertake work that has been agreed upfront and you will not be presented with hidden costs at the end. You will get the highest standards of service at a very competitive price.
North West Bloor Motors will perform your BMW MOT in Horwich expertly and efficiently. If your vehicle requires any repairs, they will use quality parts. Their technicians have been trained to the highest standards, many of them in main dealerships. This means that you get the equivalent level of service of a main dealership without the hefty price tag. Contact North West Bloor Motors today and book your annual BMW MOT test. Their excellent service and competitive pricing will delight you.