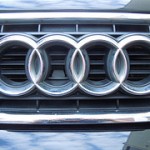 If you need an Audi garage in Leigh we are the leading independent German car garage in the area. We have the tools and diagnostic machines to ensure your car gets the very best and most thorough examination. Before we service your vehicle we check the service booklet or the digital service book to establish which service your vehicle requires. We use the manufacturer's recommendations to ensure your vehicles service meets with their high standards. Our diagnostic machine is capable of finding even the smallest fault in any system in your car. We can assess the state of all the sensors in the electronic system and replace any sensor that may be faulty.
We are independent German car specialists and an Audi garage in Leigh. We have the necessary tools and equipment to effect perfect repairs to your car. Our machine can access all the required technical data and wiring diagrams for all of the Volkswagen family which include Audi, Skoda, Seat and Porsche as well as the VW range as well as BMW and Mercedes. Our car diagnostic software is the latest state of the art system that is equal to any system that the dealerships use. We are also available for MOT testing if your car is older than 3 years of age.
When you need your Audi serviced bring it to us at the Audi garage in Leigh. Contact North West Bloor Motors today and book your vehicle in for a service or repair. We also carry out MOT tests for all vehicles in our area. We have almost 20 years of experience in service, repair and diagnostics of all makes of German manufactured vehicles. Our highly qualified technicians have gained invaluable specialist knowledge over the years and can offer the best service for your car. We take great pride in ensuring your vehicle is in perfect running order when it leaves our garage. We can offer a better quality of service than most of the dealerships at a far lower price.