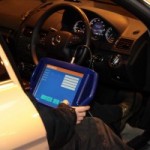 For quick and efficient VW diagnostics in Rochdale, pay us a visit at North West Bloor Motors. Most cars, if not all, are equipped with a motherboard and will register logs about the vehicles. Thus, if there is something wrong with a car, it will certainly be found among the logs of the vehicle. In the past, the mechanic would have to dismantle parts of the vehicle to find the root of the problem, however, nowadays, this process has been simplified as the fault codes are automatically saved.
For car owners in Rochdale, VW diagnostics is expertly completed by our skilled team. Our garage uses the latest diagnostic equipment and tool and will quickly find the root of the issue. Once they have retrieved the fault codes, the mechanic will then look into the faulty parts before they either repair or replace them. It's important to bring a vehicle to the garage if it starts showing or lighting up icons on the dashboard. The truth of the matter is that most dashboards are quite complex nowadays; there is an icon for everything. Thus, if one of them starts to light up and you are not too sure what the problem is, get to a garage. Not looking into it or delaying a visit to a garage might worsen the issue. Therefore, it's in the best interest of the driver as well as the passengers to fix the problem as soon as possible. If you are worried about budget or have specific concerns, talk to our friendly mechanics and auto technicians. They will be pleased to assist you and provide you with the necessary information. In addition to this, we provide our customers with high quality services without the high price tag.
Our garage would be glad to welcome you for quick and reliable VW diagnostics in Rochdale. To make an appointment for a diagnostic test for your VW, contact North West Bloor Motors.  We are proud of the services that we provide our clients. Our main aim is ensuring that every vehicle owner is driving a vehicle that's running at optimum performance when they leave our garage.