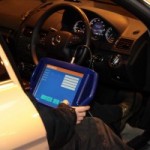 BMW diagnostics in Bury is a critical tool to have in the arsenal of any BMW specialist. But it must be a genuine BMW diagnostic scan. You hear the term thrown around a lot but maybe not everyone understands what these scans can tell our BMW specialists at North West Bloor Motors.  A scan can tell us what control units are installed and about any special equipment. The scan test will also reveal any available data about service. That leads to a test plan. The test plan shows us any potentially malfunctioning components and functions along with their documents and procedures. The actual fault is revealed along with instructions for repair. That information is saved and available in future scans.
Your BMW is operated by a computer and as with all computers, they require occasional updating. In Bury, BMW diagnostic equipment to carry out reprogramming and updating is essential. As specialists, we have these same dealer level tools at North West Bloor Motors. We have the same diagnostic capabilities to diagnose and repair a multitude of problems related to your car's performance. Diagnostics, including technical data, wiring diagrams and tooling capabilities, speed up the process and we can work more efficiently. When we get bulletins recommending a reprogram of the vehicle, we have access to the software. Along with that, our garage is full service with a dedicated staff fully skilled and experienced to undertake any maintenance or repair. There are no restrictions on the age of your BMW; new, old, classic.
If our BMW diagnostics in Bury are dealer level, then why bring your car to our garage? A few reasons actually. We are an independently owned and operated garage. That means we can provide dealer quality service but at a lower price. We've been established for over 20 years. What are the chances that the mechanics at your dealer have that much experience? We are the North West's leading independent German car specialists. Contact North West Bloor Motors and schedule your BMW in for diagnostic testing. Along with that we offer personalised customer service to help make your BMW maintenance as easy and convenient as possible.