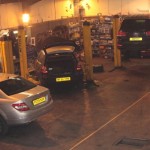 For your BMW MOT in Farnworth, choose North West Bloor Motors. We specialise in BMW and have for over 20 years. Our customers come from throughout the Manchester area for specialised maintenance, servicing and repairs. Our mechanics are trained, certified and experienced in German cars. We can repair and MOT test any vehicle but we focus on these fine expertly designed and engineered vehicles. Our shop is well equipped with the most frequently used parts and our diagnostic equipment is the latest and top quality. The age of your vehicle is of no consequence. If need be, we can completely rebuild your engine. 
We hope you will make us your garage for all services to keep your BMW operating at peak performance. In Farnworth, BMW MOT can be scheduled along with your regular service. Make one trip to save yourself some time. We can do a pre MOT check as well to make sure nothing obvious has been overlooked that could cause MOT failure. So often it's the little things that cause failure. We are highly customer oriented and we know it's difficult for some people to set aside the time for car service. You still have to work and you need your car to do so. For that reason, we keep a fleet of loaner cars for those of our customers who need to keep moving while we're carrying out their MOT. 
BMW MOT in Farnworth is focused on giving our customers a high level of professional service at the lowest possible price. Part of that effort is providing cheap MOT testing. Beyond the MOT is repairs and maintenance services. We apply our lowest possible pricing to those service areas as well. Our customers don't like surprises so we provide an all-encompassing bid upfront. We do not undertake any additional work without the express permission of our customer after they've been fully informed of the problem and the cost. Contact North West Bloor Motors and schedule your MOT with us at our VOSA approved testing centre. We'll save you money as well as making it as convenient as possible.