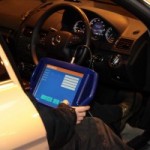 North West Bloor Motors is your auto garage specialising in BMW diagnostics in Westhoughton. We are specialists in BMWs because German engineered performance cars is where our interest lies. We can service, diagnose and repair any vehicle on the road. We just prefer the look, feel and sound of a BMW. As a vehicle, they have unique characteristics. Not everyone would notice some of the less obvious differences but we do and we have great appreciation. If you are a BMW owner then you know what we're talking about. You'll understand why BMW owners prefer the specialist services we offer in a customer-friendly environment. That's especially true when they can also save money by selecting our independent garage over the dealer.
North West Bloor Motors is one of the largest German car specialists in the area. Therefore in Westhoughton, BMW diagnostics and diagnostic technicians is one of our most important services. We have been established since 1996 and enjoy an excellent reputation. That is only possible because we are always ready for the next new innovation in BMW engine design. Technology is always on the move in all areas of our life and automobiles are no exception. We invest money in the finest most up to date equipment and technician training. That combined with our attentive customer service and attractive pricing has allowed us to grow and enjoy a favourable reputation.
We are specialists in BMW diagnostics in Westhoughton but we're also a full service specialist garage. We carry out repairs, servicing, engineering and MOT's as well as diagnostics.  We also supply and fit the best tyres for your car, your driving habits and  your environment. We take time to answer any questions you may have about your car. Our price quotes are free with no surprise endings. If dealer quality service and lower than dealer prices appeals to you then contact North West Bloor Motors. Maybe your dash light is on or you suspect a problem with your BMW. We can troubleshoot and locate the problem quickly with our diagnostic equipment and make any necessary repairs.