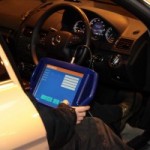 For Audi diagnostics in Skelmersdale, North West Bloor Motors is the specialist you can trust. Your engine control module (ECM) is the computer that monitors many of your Audi's engine functions, components and processes through the use of sensors. While monitoring functions, your Audi's computer will make adjustments as needed for optimum performance. We've all dreamed of a car that fixes itself. We're not quite there yet. When something goes wrong that the computer cannot compensate for, it does let you know. It turns on the engine light on your dash. That's when you want to bring your car to us. We have diagnostic tools and computer software that connects with your ECM to helps us diagnose the problem
As with anything else, there is diagnostic equipment manufactured to be sold and diagnostic equipment manufactured to work at a high level of accuracy and dependability. For our technicians in Skelmersdale, Audi diagnostics that we invest in is premium quality. When we connect a diagnostic tool to your ECM, we get a code. That code is where our skilled technicians begin because it narrows the field of options that could be at fault. The reason we only use highly sensitive and quality Audi diagnostic tools is because it lowers the chance of misdiagnosis by pinpointing the most likely culprits. Each option is carefully tested and checked by our experienced technicians to make sure we have identified the true trouble component.
If we used cheap and unreliable Audi diagnostics in Skelmersdale it could indicate that a major repair is necessary when really just an adjustment is all that's needed. The cheap stuff just is not as sensitive or accurate. Diagnostic equipment does not tell us what exactly needs repair nor does it repair anything. Good equipment puts our technicians in the right area which saves a lot of time troubleshooting. Technicians still have to do the work they were trained to do. Contact North West Bloor Motors if your service engine light comes on. We will schedule your Audi in for a diagnostic check using specialised diagnostic equipment. Our technicians will isolate the problem and make any needed adjustments or repairs. That's how we get the job done right the first time.