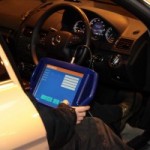 BMW diagnostics in Horwich is available at North West Bloor Motors. When you own a luxury vehicle like a BMW you want to know that the technician that is working on it has the correct skills and qualifications. It is best to use a garage with the experienced and skilled technicians to provide a first class diagnostics test on your BMW. We're pleased to offer full dealer level diagnostics and fault dealing.  This means that we have the capability, using car diagnostic software, to correctly identify exactly what is wrong with your car.  Anything a main dealer can do, so can North West Bloor Motors.
We have an excellent reputation for providing top quality services at top quality prices. In Horwich, BMW diagnostics enables our technicians to correctly identify exactly what repairs are needed on your vehicle.  While we specialise in BMW, Audi and VW vehicles, we are also able to service and repair any make of vehicle.  By using our diagnostic equipment, our technicians can quickly establish what is needed for your BMW.  There could be a fault with your engine electronics, your parking aid, or your brake and stability electronics to name a few of the problems they can identify.  Whatever the problem, our skilled technician will identify the problem and present you with a quotation for repairs.  The prices we charge are competitive too. We are an independent garage and can find a cost effective solution for all of your repairs.  You will receive first class service but without a hefty price tag.
We take great pride in providing quality BMW diagnostics in Horwich.  As German car specialists, we are passionate about the work we do. Our technicians are highly trained and skilled and offer comprehensive vehicle services. Whether you need a service or repairs, or your annual MOT, we are pleased to assist.  When you are looking for a professional garage for your BMW's diagnostic testing, contact North West Bloor Motors. Our team is proud to offer excellent customer service and we will go the extra mile to make sure that you are satisfied.