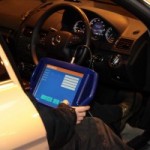 Mercedes diagnostics in Preston should be completed by an experienced team. It is also essential that the latest equipment is used. The purpose of a diagnostics test is to help identify possible problems within a vehicle's engine. Using specialised software, such a test scans different components and a vehicle's integrated system to detect errors or malfunctions. Our technicians have the skill and the experience to use our diagnostics machines. When they receive the error codes, they are better able to source the problem and then repair it. Our garage has the latest in diagnostic testing capabilities. This also includes access to tooling, technical data and wiring diagrams for all German made vehicles.
For car owners in Preston, Mercedes diagnostics are professionally completed by our skilled and experienced team. We can also assist with diagnostic testing for non-German made vehicles. Moreover, our services are exactly what you can expect from a full dealer or manufacturer. However, we offer excellent prices and aim to save you on all the services we offer. When we complete a diagnostics test, it covers engine electronics, keys and remote programming, transmission and clutch electronics, dash panel insert, light control and distance regulation among others. You can rest assured that our expert team will find the source of the problem in your vehicle.
If you need a professional garage for Mercedes diagnostics in Preston, speak to the experts. For more information, or to book an appointment, contact North West Bloor Motors.  Dealing with a professional garage means that you will save both time and money. Apart from vehicle diagnostics testing, we also offer servicing, MOTs, repairs and maintenance. As the leading German car specialist in the area, we're committed to providing a first rate service at affordable prices. We firmly believe in putting the customer first. We've received recommendations based on our superb customer service, after sales service and commitment in going the extra mile. By using our services, you will have peace of mind that you are dealing with experienced professionals who will ensure your car is working at its best.