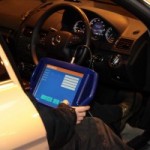 You may be wondering why Audi diagnostics in Preston are important. It is likely that you take your Audi to the garage and have it seen to by the mechanics. However, there is more to a visit to your garage than meets the eye. Diagnostics for your Audi plays a role in the effectiveness of any repair work necessary for your vehicle. Your Audi has an on-board computer, like most modern cars.  This contains information about various aspects of your vehicle, such as the engine, brakes and other related systems. A diagnostics check is a process that checks the components and systems of your Audi to help identify any issues.
Modern cars have the benefit of the computerisation of the car's components. Thus, in Preston, Audi diagnostics can assist our technicians to locate a problem within the vehicle. This is done using specialised software. It must be noted that the diagnostics check alone cannot pinpoint the underlying problem with the vehicle. It is by using this system, along with the skill and experience and skill of the technicians that problems can be identified. At our garage, our technicians have the training and skill to use our diagnostics equipment to ensure an excellent result. In addition, we make use of the right diagnostic software, tooling, technical data, and wiring diagrams that are perfect for Audi vehicles. Furthermore, our experts have the experience to identify any potential problems with your Audi.
Audi diagnostics in Preston is one of our expert services. In addition, we offer servicing, repairs and MOT testing. The repair work we offer includes mechanical work, bodywork repair, air conditioning, tyres, exhausts and clutches, brakes and electrical work. In fact, we can assist with any work you need for your Audi. For more details about our diagnostics testing for your Audi, contact North West Bloor Motors right away. As an independent German car specialist since 1996, we are the garage you can rely on for excellent services at competitive prices. In addition, we have an enviable reputation for providing all our customers with the services they need, at a price they can trust.