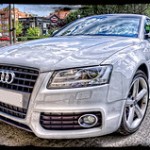 Where do you go when you absolutely need a garage for Audi diagnostics in Bolton? The Audi is quite well-known and well-liked for a number of reasons such as its CO2 efficiency, its environmental impact and its costs. The type is also known for a number of recurrent issues that Audi car owners have complained about. Some of these most recurrent issues are malfunctions with dashboard instruments or failed ignition coil. In the event that you experience a similar problem, where do you go to?
In Bolton, Audi diagnostics are available at some garages. However, North West Bloor Motor Works is a reliable company where you will get qualified mechanics to work on your car. If you are having issues with your Audi's dashboard instruments and want an accurate reading of this issue, contact North West Bloor Motors. You can drive in to the garage and leave your car in the expert hands of the mechanics. They will be sure to address the problem and efficiently repair it. When you own an Audi, or any other car, you will experience problems of some sort at any given time. So it is a good idea that you find a reliable company that can help you out whenever you need reasonably-priced services by qualified mechanics. The mechanics at North West Bloor Motor Works will be more than happy to assist you with any issues that you might have.
Audi diagnostics in Bolton are well handled by North West Bloor Motors. The company is equipped with the latest technology to deal with car diagnostics for a more accurate reading of the issue your car could be experiencing. They are able to pinpoint any faults with light control, central locking, lane change assistant, suspension electronics, roof electronics and so on. The company also offers other services such as MOTs, regular servicing, repairs, full range of specialist diagnostic and computer equipment. If you suspect you might be having an issue with your car, and require Audi diagnostics, contact North West Bloor Motors and make an appointment as soon as possible.