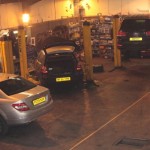 Wouldn't it be great to enjoy a professional Mercedes service in Warrington at affordable prices? When you own a prestigious vehicle like a Mercedes Benz, you will want the best services you can get and in Warrington, the best deal you will get is, without doubt, provided by one of the best auto centres which is North West Bloor Motor Works. With them, you will receive the dealership quality which comes without the high price tag.
In Warrington, a Mercedes service at affordable prices is available at North West Bloor Motors. The fact that the auto centre is not affiliated with other vehicle manufacturer allows them to provide cost-effective solutions to any problems a client might have. If you are wondering about the duration of the servicing, we understand that our clients might have other commitments and that is the reason we have 9 service bays each occupied by an experienced car technician. When you bring your vehicle in, the service should be fast and efficient. In the event that all 9 bays are occupied or that your car has to be kept for a longer period than anticipated, and you need to use a car, the company will offer you a courtesy car so that you can move around until your vehicle has been repaired or serviced accordingly. At North West Bloor Motor Works, we have the latest modern equipment to work on your vehicles. Coupled with the fact that our car mechanics and technicians are trained and experienced workers, you can expect the highest superior quality of work from the auto centre.
One of the reasons we are well known for our Mercedes service in Warrington, is the fact that we provide great customer service. Our bespoke service is truly second to none, our professional services which are cost effective, we employ the best workers to work on your vehicle and we have an excellent track record of customer care services. For an expert Mercedes service, contact North West Bloor Motors.