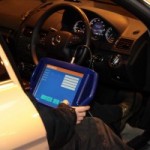 Perhaps performance remapping in Bolton is required if you noticed that your vehicle isn't as efficient as it used to be. The first thing you probably did was take your vehicle in to the garage to get it checked out by a mechanic. After conducting a thorough examination, you mechanic may have suggested performance remapping as a remedy, but you have probably never heard of the term. Things like performance remapping and economy are determined by the Engine Control Unit (ECU) which is like a mini computer installed in your vehicle. Prior to selling the vehicle to you, the manufacturer detunes the ECU and puts the settings to default to take into consideration ignition timing, different climates, rev limits, regulations, air-fuel mixture and fuel quality. By retuning the chips in the ECU, you can definitely boost fuel economy and performance remapping. This may not be possible for vehicles manufactured prior to 2000.
In Bolton, performance remapping is expertly done by North West Bloor Motor Works. Using highly trained staff and specialised tools, they are able to remap the original software within the ECU by connecting to the OBD port. This will over-write the outdated version in the engine. This process requires a high level of technical expertise which only an experienced and qualified garage like North West Bloor Motors can carry out. Having this retuning done will improve your vehicle's performance and help to keep your fuel costs at a minimum. Retuning also enhances other functions such as torque and power. Fuel economy can be scaled by up to 10%. Retuning will basically result in your engine delivering higher power for a lot less work.
If your vehicle requires performance remapping in Bolton, then bring it into North West Bloor Motors today. Performance retuning will improve your vehicle's power and speed. Some vehicle manufacturers have plug-in kits available for DIY customers, however it is more economical not to mention wise to have such a complex task carried out by a professional. For performance remapping, contact North West Bloor Motor Works.