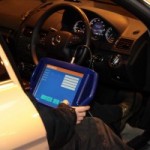 Optimise your Volkswagen with quality VW remapping in Manchester. Vehicle remapping replaces or modifies the default software in your Engine Control Unit (ECU) to optimise it according to the country you're in. As vehicle manufacturers supply to various countries around the world, all with different climates, laws, restrictions and fuel qualities, they set the vehicle's ECU to default to be remapped to the specifications of your country. That is why North West Bloor Motors offers a comprehensive remapping service for your German-made Volkswagen.
In Manchester, VW remapping heightens your vehicle's overall performance. North West Bloor Motors are independent German car specialists who provide quality services such as MOTs, repairs, engineering, diagnostics and remapping. As they are not affiliated with major vehicle manufacturers they can offer the same quality of service at a fraction of the cost. Their highly experienced technicians have all been trained at main dealers or have risen up through the ranks at North West Bloor Motors and are fully qualified to service your vehicle. Their expert knowledge and experience is rivaled only by their friendly and professional attitudes, making your experience as comfortable and convenient as possible.
North West Bloor Motors offers BMW, Mercedes, Porsche, Audi, Skoda, Seat and VW remapping in Manchester and surrounding areas. With a technician assigned to each of their nine separate service bays, they are fully equipped to work on your vehicle exclusively and provide any advice you may need. Their service is quick and efficient, with most jobs being done while you wait. They outsource manufacturer parts to ensure that you still get the quality, without the price tag. Without remapping your ECU, your car is not running at optimal level. Let North West Bloor Motors increase your VW's performance and improve your driving experience with their remapping service. For more details about VW remapping, contact North West Bloor Motors.