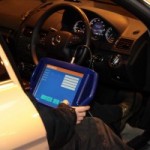 For expert BMW diagnostics in Chorley, we're available to assist. As a well-established garage with years of experience, we specialise in BMW and German vehicles. At our garage, we offer full garage services and cost effective solutions at excellent prices. We first offered our services as an independent garage in 1996. Each member of our team is BMW trained and experienced. We also offer expert services at a dealership level of workmanship, but without the hefty price tag. Diagnostics is a mechanic's specialised skill while using a diagnostics testing machine. Most vehicles have an EUC which helps to identify a problem that negatively affects the running of the car. With our diagnostics machine, our mechanics can find the probable cause of the fault.
A routine diagnostics test is important as they can find issues before they become costly to repair. In Chorley, BMW diagnostics use specialised softare that can pinpoint problems that could be in your BMW's engine, brakes, exhaust system, transmission and others. A technician uses the code reading tool to assist ith fault finding. These codes indicate hich components and engine parameters are out of sync. As such, our technicians are skilled and have the experience to further find the problem and repair it. You think of diagnostics when the engine light goes on. In truth, a diagnostic test once a year can pick up any number of small issues that can be resolved to avoid bigger problems. These minor faults may not send an engine light warning; at least not in the early stages.
BMW diagnostics in Chorley provide our experts with a comprehensive picture so that they can do effective repairs on the vehicle. Hence, we use our skills, experience and brains to identify and then make the repairs.  For superior experience and customer service, contact North West Bloor Motors at the first sign of trouble. It is sensible to consider diagnostic testing for your vehicle on a regular basis. In this way, any potential problems can be identified and repaired before they become large and costly. You can rely on our experts for efficient and thorough diagnostic testing for your BMW.