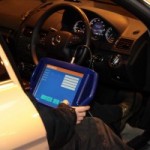 Mercedes diagnostics in Oldham is necessary in all modern vehicles. All modern vehicles are fitted with an Electronic Control Unit (ECU). This is in effect an on board computer and runs the many electronic systems in the car. Even the engine and performance as well as the fuel efficiency are controlled by this unit. Our technicians are expert at interpreting the codes that signify faults of varying degrees in the vehicle. They will know where and what the fault is.  It is often a small problem with a faulty sensor.  This is easy and affordable to replace.
Expensive German manufactured vehicles need specialist care. In Oldham, Mercedes diagnostics can save you time and money. Whenever your car's warning light comes on you should not panic but bring it to us for assessment.  Most often it will not be an expensive repair and can be sorted out quickly and the electronic control unit will reset the light.  When you have a service the diagnostic machine will ensure that your vehicle runs smoothly and efficiently. It also sends details of the service to the ECU which allows the car to schedule its own next service. It will often forward the details to the manufacturer if the car is still under warranty to keep the guarantee valid.
As we specialise in German manufactured vehicles, we have the latest state of the art Mercedes diagnostics in Oldham. Contact North West Bloor Motors today to book you vehicle in for a service or to get the small problems sorted out by our diagnostic machine. We have almost 20 years of experience in repairs and service on all makes and models of German manufactured cars. We are acknowledged as one of the leading independent German car specialists in the area. We have gained invaluable specialist knowledge over the years and feel our bespoke service is one of the best available. We do not only deal in new or modern vehicles we will also service, repair and maintain older models.